Olympic-Style Weightlifting: Selecting Attempts
Going six for six sounds good, but when contest time rolls around, how do you pick the attempts that will give you your best meet?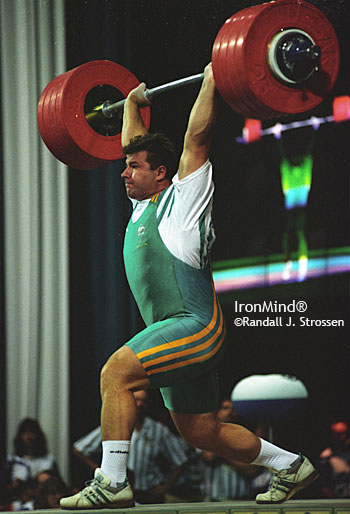 Stefan Botev nailed this 240-kg clean and jerk on his first attempt at the 1996 Olympics, on his way to the bronze medal. At the 1995 World Weightlifting Championships, a few days before he competed, Stefan Botev used a heavy "control" workout to help guide his attempts, and based on his performance, instead of choosing unrealistic weights on contest day, he selected wisely: Botev went five for six, leaving town with a gold medal and two bronze medals. IronMind® | Randall J. Strossen photo.


Ace weightlifting coach Jim Schmitz addresses this challenge of choosing the best attempts in the latest installment of "Schmitz on the Lifts," so if you want to get an idea of how to boost your chances of having a perfect day, study up.

To read the latest "Schmitz on the Lifts," go to the Training Articles button at the top of the IronMind home page and select "Schmitz on the Lifts."