Olympic-Style Weightlifters Shake Northern California
Looking back, there was the San Jose YMCA, the Berkeley YMCA, Yarrick's, the Sports Palace, Fairfax, and Sacramento State University, but then the weightlifting world in Northern California nearly hit life support levels before rebounding.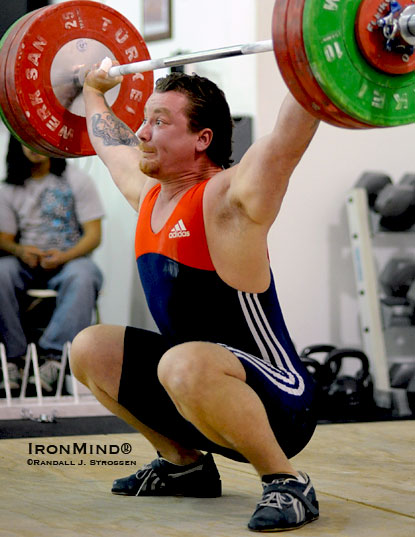 Donny Shankle stuck this 150-kg snatch at the Cal Strength Classic last Sunday in San Ramon, which he followed with a 200-kg clean and jerk. Put 10 kg on Donny Shankle's best training lifts and he's a medal contender at the big international weightlifting contests. IronMind® | Randall J. Strossen photo.


These days, the weightlifting environment is thriving to the point that if you feel the ground shaking in Northern California, it might not be the San Andreas Fault shifting—it might be someone doing snatches or cleans and jerks.

Looking around at the Cal Strength Open last weekend, a lot of the rich Northern California weightlifting history was front and center: three-time Olympic coach Jim Schmitz competed, coached, videoed and probably even brought some of his own equipment to help out; 1984 Olympic silver medalist Mario Martinez stopped by to say hi; 1980 Olympian Butch Curry attended to his Pacific Weightlifting Association (PWA) presidential duties; Bruce Wilhelm, second to Vasily Alexeev in the snatch at the 1976 Olympics and winner of the first two World's Strongest Man contests, was there to watch his son, Brian, lift, not to mention dole out pearls of Wilhelm Wisdom. On and on.

And with those roots, the next generation is tapping into a legacy that will provide a springboard for its own successes—the top young lifters like Sae Vang and Ian Wilson know the sky is the limit; Caleb Ward and Brian Wilhelm want big numbers, too; and all of them are backed up by coaches/team leaders/gym owners like Jim Schmitz (the Sports Palace), Kevin and Paul Doherty (HassleFree), Niki and Freddie Myles (Myles Ahead), Rob Earwicker (FitBarbell), David Spitz (California Strength), Greg Everett (Catalyst Athletics) and John Kasinski (University of California at Berkeley).

Also on hand this weekend were Alex Krychev, a top lifter for Bulgaria who defected to the USA, lives in the San Francisco Bay Area and is active in the sport; and Rick Adams, USA Weightlifting (USAW) CEO, visiting from the U.S. Olympic Training Center (USOTC) in Colorado Springs.

Next month, the Nor Cal Open will be at TJ's Gym in Novato and one of the key players organizing the meet is Jasha Faye, who made three Junior World Weightlifting Championships teams while competing for Steve Gough's team training out of San Anselmo High School in Marin County; Jasha Faye is also the guy who broke Mark Henry's Junior American record in the snatch.

So if you're a top American weightlifter, or want to become one, consider Northern California to be the center of your universe.