Olympic-Style Weightlifter Donovan Ford: Give Him an A 
There's a lot of hand wringing in Olympic-style weightlifting - not just from lifters grinding chalk into their hands, but also from people bemoaning the state of the sport.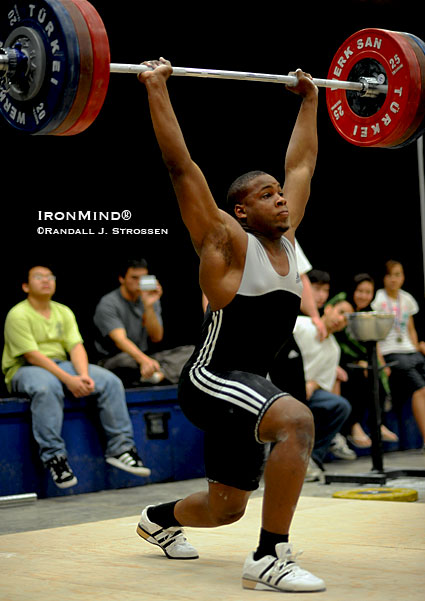 At the 2009 Pacific Weightlifting Association (PWA) Championships in February, Donovan Ford hit this 175-kg clean and jerk, part of his clean sweep of the Junior Men's PWA records. IronMind® | Randall J. Strossen photo.


Not so in Northern California, where a mighty legacy, top talent across the board, and a recent surge from the next generation is making things look better than good.

Take Hassle Free Barbell Club, half of which is headed by Kevin Doherty at Lincoln High School in San Francisco, while his brother Paul steers the ship's other half at Sacramento High School. Don't talk about a paradigm crisis to these guys - they're getting on the board, looking ahead, not just talking about placing lifters on top international teams, but going for the jugular as they dare to mention bringing weightlifting medals back to the USA.

This is no short story and this weekend another chapter is being written.

"Having walked the walk thus far this year by winning the Junior Nationals in a big way, Hassle Free's Donovan Ford will have his hands full this weekend as he takes on the world's best in Bucharest," Paul Doherty told IronMind®. "Flying out to Romania tomorrow, Donovan is in the best shape of his life, weighing in at a much-improved 102 kilos and having [recently] hit PRs in the snatch (144 kg) and clean and jerk (182 kg). His 320-kg total from the Junior Nationals puts him 7th on the start list [at the Junior World Championships[, and [he is] the only man in the A-session for Team USA."

Not resting on their laurels, though, Paul Doherty added, "Expecting to improve further on his 320-kg total, Donovan will look to jump into the top tier of USA Weightlifting to earn an invitation to the Senior World Team Trials in August."
Incidentally, IronMind®'s Randall Strossen recently had the privilege of stopping by Sacramento High to witness one of weightlifting team's workouts in person - you can read about it the June issue of MILO.