Official World's Strongest Man Website Launched
World's Strongest Man isn't just the numero uno contest in the field - it created the field; and now the leader in strongman has an official website for WSM fans and competitors alike.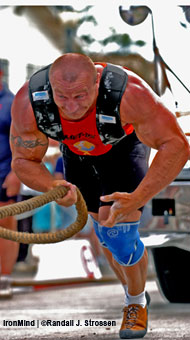 World's Strongest Man began in 1977 and has drawn big names from many corners of the strength world - instead of merely lifting barbells, these big, strong guys did things like pull trucks, lift stones and logs, and carry refrigerators, to the delight of millions of TV viewers worldwide. Mariusz Pudzianowski, shown in the truck pull at the 2004 World's Strongest Man contest, is a three-time winner of this competition - long considered the world championships of strongman - and has to be the favorite for this year's competition. IronMind® | Randall J. Strossen, Ph.D. photo.
The site currently includes such things as past results and event descriptions, so whether you are new to strongman or have already become addicted, the World's Strongest Man website is a feeding ground that is perfectly suited to your interests.

IronMind® understands that the site as it now stands is merely the first phase, so check back if you're interested in World's Strongest Man, aptly described by an insider as being, "the oldest and most successful strongman event ever!!!"