Odd Haugen on the 2009 FORTISSIMUS Certification Board
Odd Haugen has been added to the FORTISSIMUS Certification Board, responsible for signing off on the equipment, rules, and refereeing at this premier strongman event.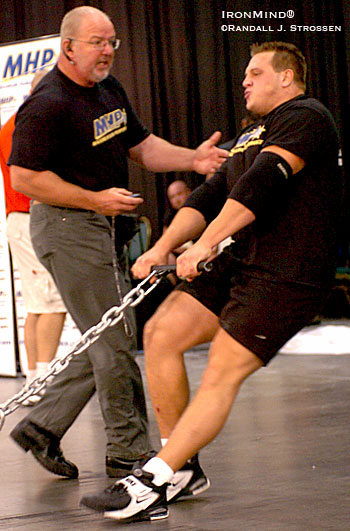 Whether its running global fitness industry businesses, organizing top strongman competitions, giving guys half his age a run for their money, or getting into the trenches as a referee, Odd Haugen has quite a resume in strongman. Here, Odd encourages Travis Ortmayer at the 2004 NAS Nationals, where Ortmayer won the title. IronMind® | Randall J. Strossen photo.


According to its prepared statement, "FORTISSIMUS WORLD STRENGTH proudly announces that Odd Haugen, Chairman of the Board of World Class Events, worldwide owner of the Super Series, President and CEO for dotFIT Worldwide, the online fitness and nutrition authority providing innovative fitness solutions to fitness facilities and consumers on an international scale, and senior competitor in major strongman competitors, has been nominated on the 2009 FORTISSIMUS Certification Board.

"We consider Odd Haugen as one of the most prominent figures in the worldwide strength community. As a professional strongman he has put together a remarkable track record, outpacing notable competitors half his age. In his professional life he has succeeded as a business executive with a great passion for strength and fitness. Holding a bachelor's degree in exercise physiology, Odd Haugen has earned a master's degree in Finance from the University of California at Berkeley. His expert eye will be an asset for the 2009 FORTISSIMUS Strongest Man on Earth," Paul Ohl, president of FORTISSIMUS, told IronMind®.

Odd Haugen will replace IronMind®'s Randall Strossen, who resigned, citing concerns about the potential appearance of a conflict of interest. In his resignation letter, Strossen told Ohl, "The ideal candidate should be someone with longstanding involvement in strongman across a variety of high-level competitions and who has demonstrated leadership and earned respect in the field - my sense is that this should be a somewhat senior person and someone with significant ballast in the field. Odd Haugen is my recommendation to fill my vacancy . . . "

Hats off to FORTISSIMUS for introducing this concept to the strongman world and congratulations to Odd Haugen for being selected to serve in this capacity.