Odd Haugen Presents the 2010 All-American Strongman Challenge
Based on the official statement sent to IronMind®, Odd Haugen's 2010 All-American Strongman Challenge, set for the FitExpo, will provide a gateway for professional strongmen to win invitations to the 2010 Mohegan Sun Grand Prix and the 2010 Arnold strongman contest.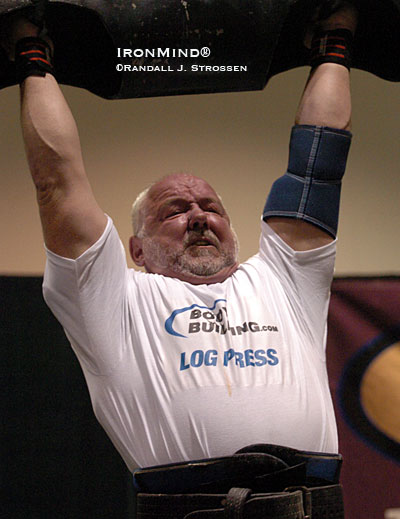 Odd Haugen last competed at the FitExpo in 2008, but he's talking about coming back soon, so whatever your age, don't get complacent in your own training. IronMind® | Randall J. Strossen photo.

According to the statement, "The All-American Strongman Challenge will determine the American athletes to compete in the 2010 World Strong Man Super Series. The competition is open to all qualified pro strongman athletes. The top six athletes will receive All-American Team Honors and the top 3 athletes will get a direct invite to the Mohegan Sun Grand Prix stop on the 2010 WSM Super Series Tour. Also, the 2010 All American Champion will get a direct invite to the 2010 Arnold's Classic Strongman competition."

Here are the events:

Farmer's walk: 385 lb./per hand, 66 feet
Stone over bar: 385 lb. for reps; 56" high bar
Super yoke: 915-lb. yoke, 66 feet
Overhead lifting medley: 5 aluminum blocks - 105, 115, 125, 135 and 145 kg
Deadlift hold: 400-kg giant frame
Stones of strength: five stones (265 - 385 lb.)

Prize money:


| | |
| --- | --- |
| 1st | $4,000 |
| 2nd | $2,000 |
| 3rd | $1,500 |
| 4th | $1,000 |
| 5th | $850 |
| 6th | $650 |


Incidentally, don't think this is mere hype about how winning this contest opens some big doors: Brian Shaw won the 2009 edition of this contest and you know where he's been and how he's done this year.

Stay tuned for more details.