Odd Haugen: New Chairman of the Board for World Class Events
It will become official this weekend, but IronMind® has received confirmation that Odd Haugen is the new Chairman of the Board of World Class Events, the company that "owns and manages all TV and commercial rights for the [WSM] Super Series."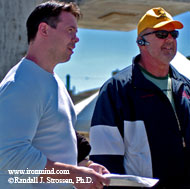 1997 and 1999 World's Strongest Man winner Jouko Ahola (left) and Odd Haugen (right) getting ready to roll at the Muscle Beach WSMSS event last month (Venice, California). IronMind® | Randall J. Strossen, Ph.D. photo.
The World's Strongest Man Super Series (WSMSS) continues this weekend with the Vulkan Grand Prix in Varberg, Sweden, and the contest features Janne Virtanen and Mariusz Pudzianowski, both former World's Strongest Man winners, as well as the rising American star Jesse Marunde, and Britain's Gosling brothers.

With an eye to the dramatic, this contest is being staged in an outdoor amphitheater next to the Varberg Fortress, and besides glory and a piece of the US$25,000 prize money, invitations to the 2005 World's Strongest Man contest are on the table.

Haugen said that he looks forward to an expanded tour for WSMSS next year, going from this year's four-contest schedule to six.

"This year we had to work under the gun," Haugen explained. "Next year, we will have more structure and more events." And, sponsors willing, Haugen added, more prize money as well.

As usual, Haugen will be juggling managerial duties with major amounts of muscle: If there is an injury, he is ready to join the field as a competitor at this weekend's contest - maybe Haugen's appointment gives new meaning to the concept of "executive power."