Novikau Holds Off Calancea
Sofia, Bulgaria - With eleven attempts at 165 kg in the snatch, it's easy to understand just how close the competition was in the 85-kg category at the European Weightlifting Championships today.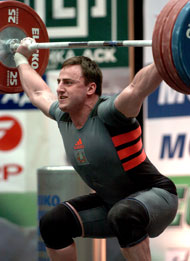 Ruslan Novikau (Belarus) looked like he had this 172.5-kg snatch, but he lost it as he was recovering. IronMind® | Randall J. Strossen, Ph.D. photo.

165 kg in the snatch really separated the field because of the eleven attempts at this weight, only eight were successful and only two lifters made it on their first attempt - one of which was Novikau, who went on to be the only lifter to make 170 kg. Novikau appeared to have a successful lift with 172.5 but he lost it at the last moment as he was standing up.

Varleriu Calancea (Romania) had a shot at overtaking Novikau when he made a 205-kg jerk on his second attempt, moving past Novikau on bodyweight. With his back to the wall, Novikau took the same weight on his third attempt and made a very nice lift. This pushed Calencea to 212.5 if he wanted the gold in the total (and the jerk), and his second attempt had been strong. Would he make it? Not today - he only deadlifted the bar. Arsen Melikyan (Armenia) got the bronze medal in the total with 165/197.5, edging Oleksander Cherpak (Ukraine) on bodyweight.