"Norway's Strongest Man is soon around the corner," Lene Karlsen, of MILO®-strongman-author fame, told IronMind®.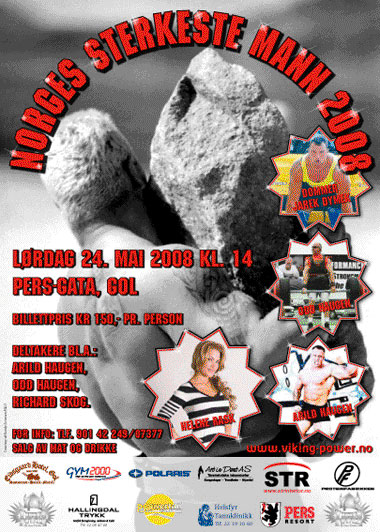 Norway's Strongest Man will be packed with Nordic might and muscle, and Viking himself will be on a microphone . . . Elvis requests anyone? IronMind® | Artwork courtesy of Lene Karlsen; Randall J. Strossen photo.

If you think strongman is only for guys in their 20s, consider the age range in this field: the youngest is 17 and the oldest is 59, and there is something like a 50-kg spread in bodyweights, too. Norway's Strongest Man will be held on May 24, in Gol in Hallingdal, and besides being a big contest in its own right, Norway's Strongest Man is a qualifier for the Super Series Viking Power Challenge on July 5 at the Storefjell Hotel. How big is Norway's Strongest Man? Svend Karlsen told IronMind® today that the winner has been guaranteed an invitation to this year's World's Strongest Man contest.

Besides the twelve competitors - who include Richard Skog, Arild Haugen, and Odd Haugen - watch for Jarek Dymek as the referee, and "Svend 'Viking' Karlsen will do the live commentary together with Truls Nebell for TV2," said Lene Karlsen.

For full details, please check the Viking Power website.