She's searching the web for the best weather report she can find for next weekend, Lene Karlsen told IronMind®, but this is a Viking Power production, so no matter what might fall from the sky, the Norsemen will still have their way at the Norway's Strongest Man contest next Saturday.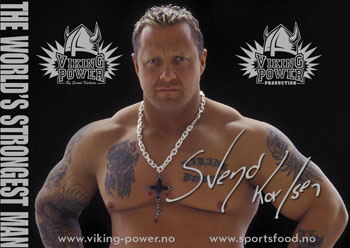 "This picture is what the Viking will give out to the kids and other bigger kids if interested this season!," Lene Karlsen told IronMind®. IronMind® | Courtesy of Viking Power productions.

Odd Haugen is in Norway for this contest, and on Thursday Odd will team up with Svend Karlsen on the Good Morning Norway TV show to promote the contest. In the meantime, Odd said that his tune-up training is going well . . . hitting workouts with "two of my competitors that are members of my old club KK67 in Trondheim." And if you think big guys don't cross train, Odd added the he is "also doing a lot of yard work which will hopefully prepare me for a great performance on Saturday, if it doesn't wear me out."