Odd Haugen will be competing along with Svend Karlsen and "eight others for the biggest NSM ever!" Lene Karlsen told IronMind®.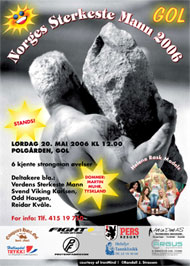 NSM 2006 on May 20 promises to be the biggest ever, Lene Karlsen told IronMind®. IronMind® | Poster courtesy of Svend and Lene Karlsen.

"Norway has received an invitation from the Ukraine for a team competition, so things are looking bright for strongman in Norway now," Karlsen added. "We are also going to have a Norway versus Sweden competition later this year with the top six from each country. Both Svend and Magnus [Samuelsson] will be present."

"For Norway's Strongest Man, Martin Muhr is the judge, and Svend will compete in World Strongman Cup for Martin in both Belfast and Germany later this year. It's funny, but The Viking [Svend Karlsen] has not been this fully booked since he won WSM 2001 and now he plans to retire!"

Don't forget, even if you can't make it to Norway this month, you will have a chance to see Svend Karlsen and Magnus Samuelsson at the WSMSS Mohegan Sun Grand Prix on June 1.