North Korea's Kim Un Guk Wins the 62s at the World Weightlifting Championships
Antalya, Turkey – North Korean weightlifter Kim Un Guk got ahead in the snatch and held onto his lead to defeat a field that included. among others two Chinese powerhouses: Ding Jianjun (the defending world champion) and Zhang Jie (the world record holder in the total).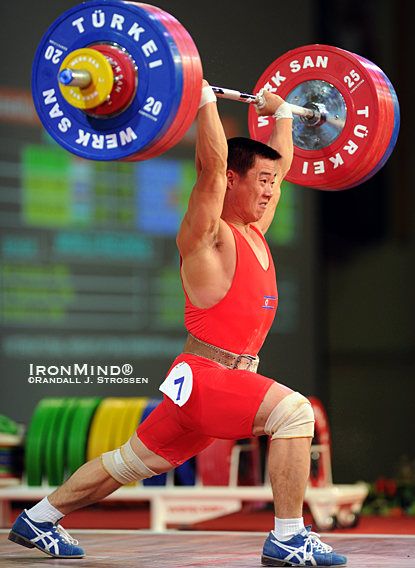 Kim Un Guk (North Korea) stuck this 173-kg jerk to win two gold medals and one silver medal in the 62-kg category at the 2010 World Weightlifting Championships tonight. IronMind® | Randall J. Strossen photo.


A consistent, crisp performance by Kim Un Guk won the day for him as he got set up for the overall victory by winning the snatch phase via 140, 145 and 147. In the clean and jerk, he opened with 170, missed the jerk with 173, and then came back to make it—a lift that was good for the silver medal in the jerk and gave him a 5-kg lead over silver medalist Zhang Jie. Turkey's Erol Bilgin finished with the bronze medal in the total with 314 kg.

###


Want to talk strength? Join the IronMind Forum!

You can also follow IronMind on Twitter.