North American Strongman Nationals and America's Strongest Woman
"The North American Strongman (NAS) amateur nationals are over," Dione Wessels reported to IronMind, with new national amateur strongman champions and new ASC pro cards resulting.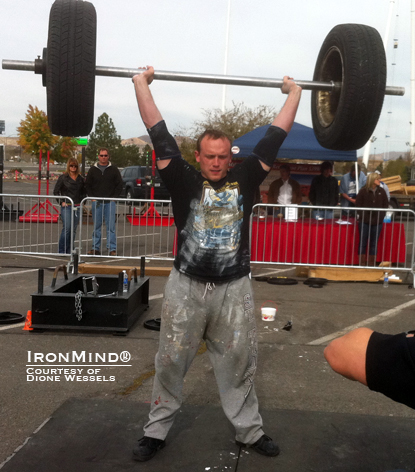 Jeff Peterson on the IronMind Axle clean and press for reps at the NAS nationals. IronMind® | Photo courtesy of Dione Wessels.




"We had 140 athletes competing over the course of two days," Wessels said. "The new ASC lightweightt professional is Zack Nims of Seattle, Washington. Zack had an impressive two days and was the only lightweight to load the 390-lb. stone. Zack's win qualified him for the Arnold amateur strongman world championships.

"In the open class, Eric Peterson of California won making him the newest ASC professional. Along with Eric, fourteen other athletes also qualified for the Arnold amateur strongman world championships. Qualifying athletes are Michael Burke, Brad Ardrey, Jarrod Beekley, Tomas Rodriquez, Derek Devaughn, Alan Colley, Dave bourgeois, Brad Gardner, Brett Sommerville, Brady jones, Dave Mihalov, Rob Lewis, Joel Dircks, and Luke Johnson.

"We also had the America's Strongest Woman in conjunction with the men this year. In the lightweight division, Erin Watermann won; American gladiator Jamie (Fury) Kovac wins; and Melissa Garrett dethroned the three-time champion Kristen Rhodes for the America's Strongest Woman title. 
 It was a great competition, great crowd, and crisp chilly skies."

###

Want to talk strength or discuss this article? Join the IronMind Forum!

You can also follow IronMind on Twitter.