North American Highlander Association Donations Top $10,000
"With the donation made from the 2010 NAHA Nationals, along with donations made in prior years, we (NAHA) were able to give over $10,000 to Camp CoHoLo, a local cancer camp for children ages 6-17," North American Highlander Association (NAHA) founder and president D. J. Satterfield told IronMind.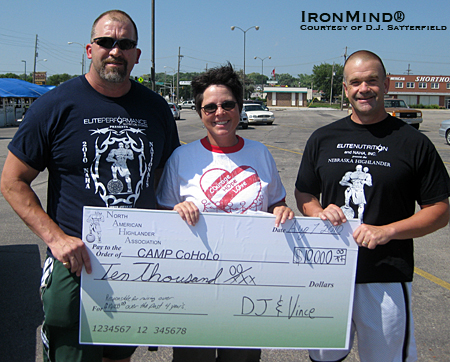 To date, NAHA contributions to Camp CoHoLo exceed $10,000. Left to right: Richard Vincent (NAHA vice president), Berta Ackerson(Camp CoHoLo representative) and D.J. Satterfield (NAHA president). IronMind® | Photo courtesy of D.J. Satterfield.


"Being able to help these children out is very important to us and is one of the driving forces behind ourselves and NAHA. We truly believe that all of us are blessed and should 'pay it forward' in one way or another.

"Contest sponsors, spectators (through our raffle) and local businesses have been the driving force behind us achieving this donation. Vince and I have been fortunate enough to see the children at camp, at a local aquatic center and other activities, so we know the money raised is going to great use. Just to see these children get to be children, makes it all worthwhile, as most of them have an enormous amount of medical issues to deal with."

The North American Highlander Association puts on contests that combine traditional Highland Games events with strongman events. For more details on NAHA, please visit their official website.

###


Want to talk strength? Join the IronMind Forum!

You can also follow IronMind on Twitter.