North American Highlander Association: Blending Strongman and the Highland Games
Continuing the development of the Highlander Games - a blend of strongman and traditional Highland Games events - D. J. Satterfield has started "an amateur organization called North American Highlander Association, Inc."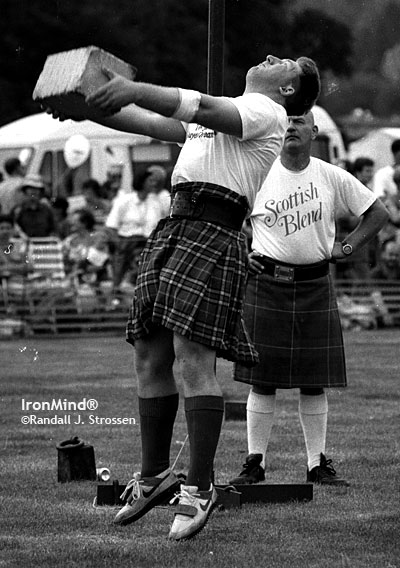 There is a quite a of tradition of strongman-Highland Games crossover. Here's Iceland's Andreas Gudmundsson competing in Callander, Scotland in 1994, in a weekend that had both the European Musclepower Championships and Highland Games World Championships on the same field. That weekend, four-time World's Strongest Man winner Magnus Ver Magnusson took a break from strongman and was competing in the Highland Games World Championships, where he took third place. Incidentally, that's Jim Pollock, also of World's Strongest Man fame, keeping a sharp eye on things as Andreas unloads on the weight for height. For more details on that historic weekend, be sure to read the October 1994 issue of MILO®. IronMind® | Randall J. Strossen, Ph.D. photo.


"It will be a mix of strongman and Highland Games," Satterfield said. "In a six-event contest, there will be three of the events that are strongman and three that are Highland Games. We will offer four-, six- and eight-event contests," Satterfield said. "We currently have four state chairs with more being finalized and are working with some Pro strongmen and Highland Games throwers."

For more information, please visit the North American Highlander Association (NAHA) website.