NorCal Open: Big Wave of Weightlifting in the Bay Area
"With 40 junior lifters, Hassle Free Barbell Club dominated the NorCal Open," Hassle Free's Paul Doherty proudly reported.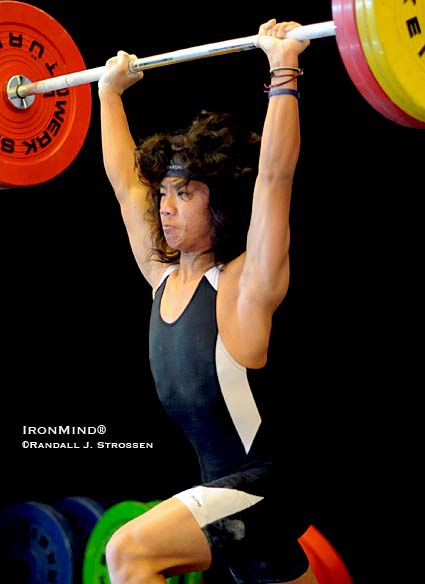 Lifting in the 56-kg category, Sacramento High School student Sae Vang hit this 108-kg clean and jerk at the Northern California Weightlifting Championships yesterday. IronMind® | Randall J. Strossen photo.


"Most impressive for Hassle Free were Thailand-bound men Sae Vang, Ian Wilson, and Brandell Sampson," Doherty said, referring to the upcoming Youth World Weightlifting Championships. "Vang exceeded his gold medal mark from the Junior Nationals, hitting a 108-kg clean and jerk, while Brandell Sampson improved his snatch to 121 kg. Teammate Ian Wilson hit the trifecta with PRs in snatch, clean and jerk, and total. Ian went 6 for 6 with lifts of 120 kg and 150 kg for a 270-kg total. Not bad for just a freshman in high school," enthused Doherty.

"Seventeen-and-under 77-kg lifter Kyle Saelee also hit the trifecta with lifts of 101 kg and 130 kg, for a 231-kg total. Just coming off of a devastating wrist injury, Kyle will not be able to join his teammates in Thailand but has his eyes on the upcoming 17-and-under Pan Am Games," Doherty said.

These excellent performances reinforce the trend of Northern California once again reasserting itself as a hotbed for Olympic-style weightlifting, a tradition that goes back well into the last century. In recent years, such next-generation leaders as Kevin and Paul Doherty (Hassle Free Barbell Club), Rob Earwicker and Dave Corbin (FIT Barbell Club), and Niki and Freddy Myles (Myles Ahead)have been developing teams and hosting Olympic-style weightlifting meets at their facilities.

Also clear is the influence of CrossFit, providing a much broader base for introducing people to the Olympic sport of weightlifting: Even if CrossFitters are best known for emphasizing lighter weights and higher reps, a knowledgeable weightlifting coach can quickly increase the athlete's technical skill and strength, producing much bigger numbers on maximum lifts, explained Jasha Faye. Faye, whose noteworthy competitive career included breaking Mark Henry's Junior American record in the snatch, is the Olympic weightlifting coach at TJ's Gym , which is both a CrossFit facility and the home to a competitive weightlifting team.