Nor Cal Weightlifters: Last Chance . . .
Want another shot at qualifying for the nationals or just want to see what you really can snatch or clean and jerk?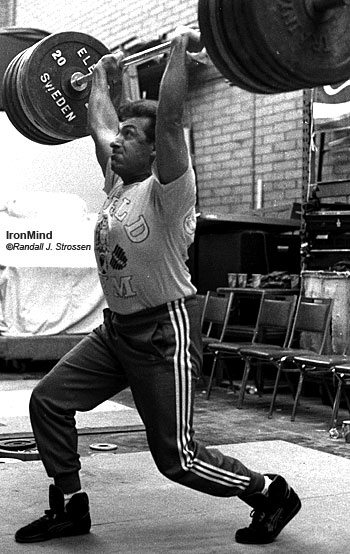 Yurik Vardanian, who totaled a staggering 400 kg as an 82.5-kg weightlifter at the 1980 Olympics, couldn't keep his hands off the bar 15 years later in Fresno - this was in the warmup room at the 1995 USA Weightlifting National Championships, where, just playing around, Vardanian cleaned and jerked 150 kg. IronMind® | Randall J. Strossen, Ph.D. photo.
The Pacific Weightlifting Association's 2007 Last Chance Seniors Qualifier & Junior Open is set for April 1 at Sacramento High School, and you can email meet director Paul Doherty for details: pdoherty@sachigh.org . Northern California has a tremendous tradition in the sport of weightlifting, so whether you want to lift, watch or help load, stop by and have a good time.