Noah Bitter Certified on the Captains of Crush No. 3 Gripper
Congratulations to Noah Bitter, who has just been certified on the Captains of Crush No. 3 Gripper, proving his world class grip strength.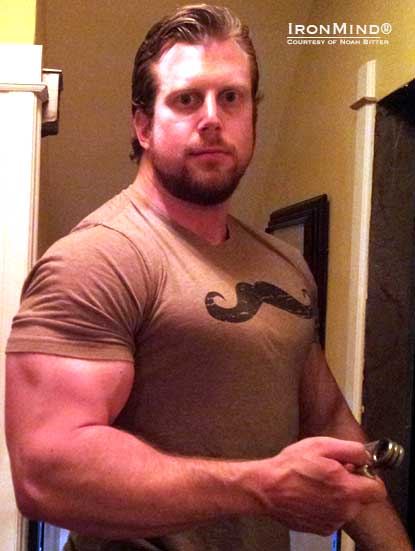 With the CoC No. 3 done and dusted, Noah Bitter has set his sights set on certifying on the Captains of Crush (CoC) No. 3.5 gripper next. Anybody want to bet against him? We thought not. IronMind® | Photo courtesy of Noah Bitter.


"I started weight training at the age of 17 and instantly fell in love with it. I bought my first gripper, the CoC #2, about 4 years ago and upon getting it, closed it a couple times.

"I then moved on to both the CoC 2.5 and 3; I had them both closed within the next few years. I am now actively working towards closing the CoC 3.5 and will have it closed within the next 6 months.

"Excelling at grip training has me interested in both nail bending and other feats of strength including the Rolling Thunder and pinch gripping.

"I would like to thank Frank Wallace for taking the time out of his hectic schedule to referee my official attempt—we had a blast," Noah told IronMind.

Noah is 6' 4" tall, weighs 275 lb. and works as a "physical therapy floor manager at a medical office," he said.

IronMind would like to add its thanks to Frank for his good-spirited assistance on Noah's official attempt, and it's official: Noah Bitter's name has been added the Captains of Crush No. 3 certification list.

Nice work, guys!


###

The IronMind Forum: discuss this article, talk strength, get help with your training.

You can also follow IronMind on Twitter.