"No Munitions, no Provisions"
Our man of pen and stone, the mighty Steve Jeck, has been working in his unique quarry.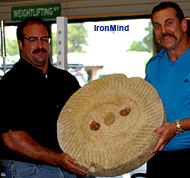 Steve Jeck (left) and Richard Sorin (right) with Richard's millstone (did Goliath lose a button?) at the grip reunion held at Sorinex last month. IronMind® | Randall J. Strossen, Ph.D. photo.
Wonder what to expect from your lifting? Wonder why most people talk more than they train?

For those interested in taking a less commonly-travelled road, one with different risks and rewards, stop by and see what Steve "Inver Stone" Jeck has offered up "From The Quarry," or follow the Training Articles link from the IronMind homepage.