Wladyslawowo, Poland - It proved the merits of the latest analytical tool and also of (merely) having a keen eye, as Jurgen Lippman, of Weightlifting Analyzer 3.0 fame, and German Weightlifting Federation President Claus Umbach caught the fact that a lifter in the 56-kg category, Arsen Tamrazyan (Armenia), had taken four snatches and they had the recorded evidence to prove it.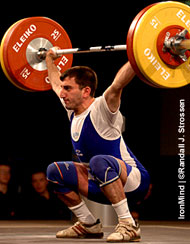 Arsen Tamrazyan (Armenia) snatched this 110 kg in the men's 56-kg class last night at the European Weightlifting Championships, but the only problem was that he had already taken three attempts. IronMind® | Randall J. Strossen, Ph.D. photo.

Meanwhile, up in a broadcast booth, armed only with what they had or had not observed and remembered, two well-known TV commentators exchanged some sharp words as one said this had occurred and the other denied it.

Dave Morgan, who happened to be the one on the correct side of the argument, walked out of the booth in frustration and he had to be replaced with a substitute commentator, although weightlifting fans will be happy to know that he's back on duty today.

Anyway, nothing official was done last night because, officially, the snafu had not taken place - after all, the scoreboard told it all, didn't it? Today, though, the European Weightlifting Federation issued a statement correcting the error, saying that the fourth attempt was disallowed in the snatch, knocking Tamrazyan out of bronze medal position in the total, and giving it to Laszlo Tancsics (Hungary), instead.