Doha - China's Dong Feng was the big news in the super heavyweight class at the 2006 World Weightlifting Championships - a junior who burst on the scene and served notice that the Chinese Weightlifting Federation just might be fielding a top +105 kg weightlifter in 2008.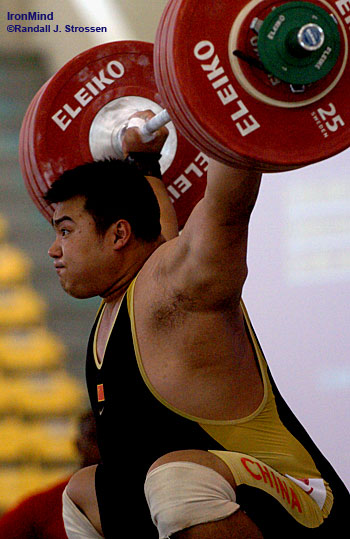 Dong Feng nailed this 192-kg snatch at the 2006 World Weightlifting Championships; he tried 198 kg on his third attempt, but missed it. IronMind® | Randall J. Strossen, Ph.D. photo.

Dong Feng didn't waste any time making a big splash at the World Weightlifting Championships this year, where he missed a junior world record attempt in the snatch (198), but then he cleaned and jerked 245 kg for the junior world record in the jerk and in the total (437 kg).

Because of this, Dong Feng became a lifter of significant interest, but a source close to the Chinese weightlifting team just told IronMind® that only days ago, Dong injured his leg in training and so he will not be here in Doha to compete in the Asian Games, as his primary focus is the 2008 Olympics, which will be in Beijing.