Nikita Krivosheev Certifies on the Captains of Crush No. 3 Gripper
He tried in December of last year and didn't quite make it, but there was no doubt today as Nikita Krivosheev officially closed the No. 3 Captains of Crush Gripper—becoming the youngest Russian certified on the CoC No. 3 to date.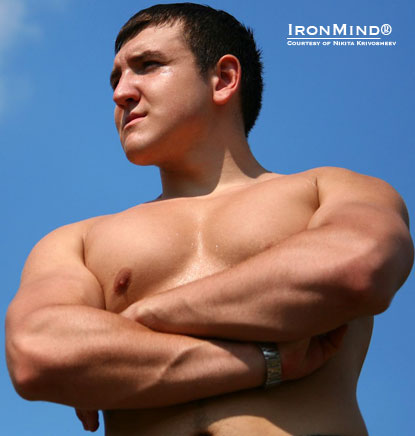 He's only 19 years old, but today Nikita Krivosheev officially closed the Captains of Crush No. 3 Gripper—becoming the latest and the youngest Russian to certify on this benchmark test of grip strength. Krivosheev stands 181 cm (almost 6 ft.) tall and weighs over 100 kg (220 lb.). IronMind® | Photo courtesy of Nikita Krivosheev.


Once again, Alexei Ovsiannikov served as the official referee for Nikita Krivosheev's attempt: "He closed #3 relatively easy. He is young and has all the possibilities to challenge stronger grippers in the future."

Nikita Krivosheev told IronMind, "I am not a fan of talking about myself," but the 19-year old, who recently graduated from college, said, "My favorite hobby is blind typing; I am a member of Russian typing team. My typing speed is about 400-500 letters per minute."

And in other forms of handiwork, Nikita Krivosheev said, "My next goal is CoC #3.5 certification."

Incidentally, the camaraderie among these young Russian grip stars was evident once again, as Alexei Ovsiannikov told IronMind, "I would like to thank Ivan Beritashvili and his team for supporting Nikita during his attempt."

Congratulations, Nikita—your name has been added to the official certification list for the Captains of Crush No. 3 Gripper, and many thanks once again to Alexei Ovsiannikov for his exemplary service as a referee.

Incidentally, Nikita's age caught IronMind by surprise, so we are confirming his birthdate and look forward to adding his name, along with our contribution, to the Jesse Marunde Teenage Captains of Crush Trust Fund.

###

The IronMind Forum: discuss this article, talk strength, get help with your training.

You can also follow IronMind on Twitter.