Night of Champions: Get Ready to Rumble
In September 2005, California's Ken Brown continued his pattern of breaking the world record in the silver dollar deadlift in Gatineau, Quebec.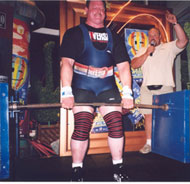 Ken Brown pulled a world record 500-kg silver dollar deadlift at the 2005 Gatineau (Quebec) Balloon Festival. IronMind® | Photo courtesy of Ken Brown.
Well, records are made to be broken and guess who's coming back to Canada for another assault on gravity?
Star Canadian strongman Hugo Girard told IronMind® that on May 27, in Quebec City, he is organizing a contest called Night of Champions that will have a very interesting format.

Limited to powerlifters who can squat and deadlift at least 700 pounds and bench at least 500 pounds, first up on the card is squats, followed by two three-round boxing matches. Next up is the bench press, followed by two more boxing matches. And just before the deadlifts, Ken Brown, as a specially-invited guest lifter, will attack the silver dollar deadlift.

This should be a great contest - a lot of fun, big numbers, and a chance to soak up the terrific strongman atmosphere unique to Quebec.