Nicole Geissler Wins Germany's Strongest Woman
Nicole Geissler repeated at the winner of Germany's Strongest Woman and Aryn Lockhart called the action for IronMind.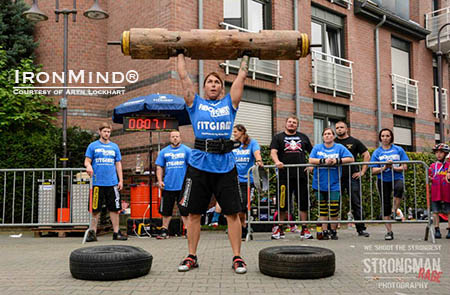 Nicole Geissler dominates during the German Strongwoman Championship, completing 11 reps with the 60kg (132lb) log. IronMind® | Aryn Lockhart photo


Nicole Geissler is the Strongest Woman of Germany
by Aryn Lockhart

Nicole Geissler is the strongest woman of Germany for the second year in a row. Nicole dominated the field winning three of the four events during the German Strongwoman Championship held in Kaarst, Germany. There were four events starting with Bavarian stone lift that started with 125kg (275lbs) to 80cm (31.5inches); 250kg (554lb) tire flip for six flips; overhead log 60kg (132lbs) or 45kg (99lbs) for reps; and finally farmer's walk with 70kg (154lbs) in each hand for distance.

Nicole has qualified and plans to compete internationally at the Arnold's Classic in OH against some of the most elite in the strongwoman sport. Currently she holds the Bavarian Stone Lifting world record, is the European Deadlift Champion with a 197.5kg (434.5lb) lift, and will be travelling to Poland in November for the World deadlift Championship. Undoubtedly, she will be a force at the international level.

###

Want to talk strength? Join the IronMind Forum.

You can also follow IronMind on Twitter and on Facebook.