Nick McKinless recently added another feather to his cap when won the Britain's Strongest Man Contest under105 kg.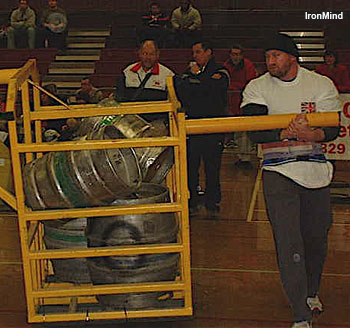 Nick McKinless strolling with the 300-kg Conan's Wheel, on his way to victory in the 2006 Britain's Strongest Man under 105 kg. IronMind® | Photo courtesy of Nick McKinless.
McKinless is no stranger to big performances, and when strength historian David Webster witnessed Nick attack the world-famous Dinnie Stones, he had a few words of note.

"The efforts of young Nick McKinless of Cheltenham were most impressive. A very athletic-looking powerlifter, 6'1" and a little over 200 lb., he had a serious, determined approach . . . " reported Webster. Celebrating his success, McKinless "then threw a lovely back somersault!" Webster wrote. For the complete story, check the September 1998 issue of MILO®.

Nick has gone on to move to Australia and and among his accomplishments, he became a stunt man. "I am currently working on The Golden Compass (Nicole Kidman and Daniel Craig) in London," Nick told IronMind®.