News From Georgia: Grikurovi, Asanidze, Kakiasvilis
Georgia, as in the former Soviet Republic, might not be the world's largest country, but thanks to its exceptional weightlifting coach Ivane Grikurovi, its mark on the uppermost echelons of the sport is unmistakable.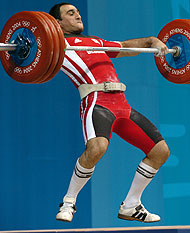 Georgi Asanidze nails this must-have 177.5-kg snatch on his way to the gold medal in the 85-kg category at the 2004 Olympics (Athens). IronMind® | Randall J. Strossen, Ph.D. photo.
Akakios Kakiasvilis (nee, Khaki Khakiasvili), three-time Olympic gold medalist, whose development under Ivane Grikurovi has nearly-mythical status among weightlifters, had told me in Athens that because he was so disappointed in his performance, he could not yet retire.

It had been expected that perhaps Akakios (Khaki) would be starting at the upcoming European Championships, but he has been taking the rebuilding process very slowly and now it looks like his next competition will be the World Championships in November.

Georgi Asanidze, who won the gold medal in the 85-kg category in the Athens Olympics, is now a member of the Georgian Parliament, but Grikurovi said that Asanidze will be starting at the World Championships later this year.

Polish phenon Szymon Kolecki, who had been training under Grikurovi when the Georgian coach was working in Poland, underwent back surgery and is now thinking about retiring from lifting - a near-tragedy for such a talented athlete whose "mere" silver medal at the Sydney Olympics left his fans shaking their heads in disbelief.

Following Asanidze's glittering performance in Athens, the president of Georgia, Mikhail Saakashvili, met with Ivane Grikurovi, pledging his support of the country's weightlifting program, and that led to the great Georgian coach returning home, and it has created the basis for more golden performances to emerge from this powerhouse in the sport.