New York's Strongest Arm: The Final Showdown
For the record, it's called the 36th Annual Empire State Golden Arm Tournament of Champions, and it is the official New York State Arm Wrestling Championships, but let's cut to the chase: who's got the strongest arm in New York?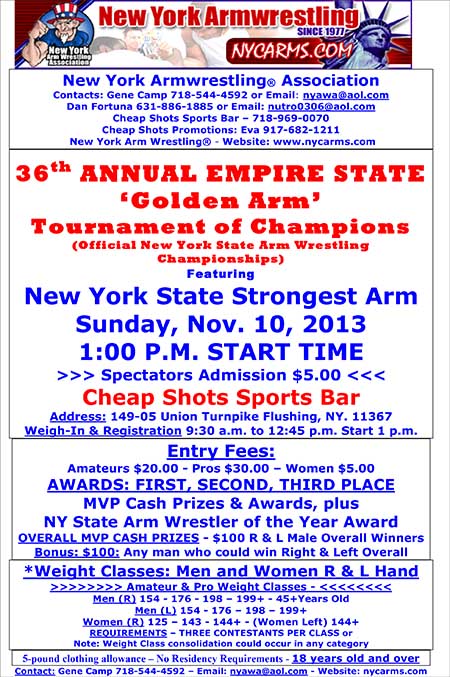 "Men and women come to grips in New York final showdown" at Cheap Shots Sports Bar in Queens on November 10, 2013.


"Over 100 men and women are expected to compete for the chance to be crowned Empire State Golden Arm Champion. There are 14 weight class categories for men and women," according to a New York Arm Wrestling Association (NYAWA) press release.

"The Empire State Golden Arm Tournament of Champions is New York City's oldest and most prestigious sought-after title," said NYAWA founder and president Gene Camp.

"This event as the culmination of the 2013 NYAWA season is going to be a very exciting to watch," so it should be a thriller for arm wrestling fans."

Please visit nycarms.com for full details.

###

Want to talk strength? Join the IronMind Forum.