New York State's Strongest Arm: You Got It?
Talk's cheap, but if you think you've got the strongest arm in New York State, Gene Camp and the New York Armwrestling Association are giving you a chance to prove it.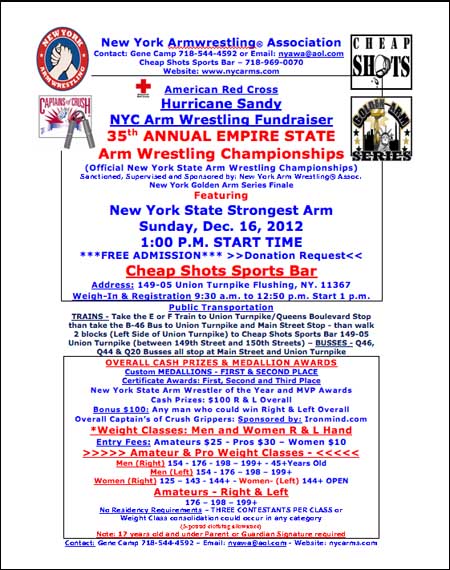 Major bragging rights are on the line: Who's got the strongest arm in New York State? IronMind® | Artwork courtesy of Gene Camp/NYAWA.


No matter that Sandy tried to mess things up, Camp said and the 35th Annual Empire State Arm Wrestling Championships will be help on December 16 in Cheap Shots Sports Bar. Weight classes, men and women, right and left hand—and cash prizes, medallions and Captains of Crush® grippers are among the prizes in what is also a fundraiser for the American Red Cross and Hurricane Sandy relief: "We are sponsoring the event and giving a portion of the entry fees and in-house fundraising," Camp said.

For full details, please visit the NYAWA website.


### 



The IronMind Forum: discuss this article, talk strength, get help with your training.


You can also follow IronMind on Twitter.