New York Arm Wrestling Opens 2011 White Castle Series in the Bronx
The New York Arm Wrestling Association (NYAWA) is bringing its "one-on-one displays of awesome feats of strength, merciless demonstrations of power and explosive raw energy" to the Bronx Week Food and Arts Festival audience, said NYAWA founder and president Gene Camp, as he announced the White Castle 28th Annual Bronxboro Arm Wrestling Championships.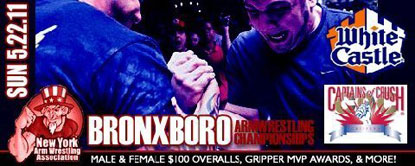 Arm wrestling in the Bronx on May 22—visit New York Arm Wrestling Association for the full details. IronMind® | Artwork courtesy of NYAWA.


"We are both excited and grateful that Jon Vogt the Regional Director of Operations for White Castle has approved a 2011 partnership with the New York Arm Wrestling Association for sponsoring the White Castle multi-event New York Golden Arm Series," said NYAWA president Gene Camp,

"The White Castle Bronxboro Arm Wrestling Championships is the first Borough Championship of the multi-event White Castle NY Golden Arm Series where individual events are held in each of the five NYC Boroughs, and Long Island, and culminates into the 34th Annual White Castle Empire State Golden Arm Tournament of Champions to be held on November 17, 2011 at the Port Authority Bus Terminal in NYC," explained Camp. "The competition will be divided into seven weight classes for men and three for women. Awards will be given for first to third place and $100 cash prizes will be given to Bronx Strongest male and female."

For all the details, please visit the official NYAWA website.

###


The IronMind Forum: discuss this article, talk strength, get help with your training.

You can also follow IronMind on Twitter.