New Louis Cyr Site and Biography
Even if you don't read French, Paul Ohl says of the new Louis Cyr website, "It will probably be of interest to many, no matter what language it is in."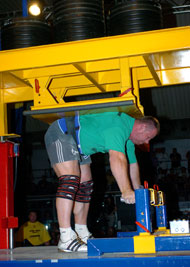 Where better than Louis Cyr country to reintroduce the backlift? Raimonds Bergmanis gives the Cyr specialty a go in Quebec, Canada. IronMind® | Randall J. Strossen, Ph.D. photo.
"The site commemorates the 110th anniversary of the famous backlift (May 27, 1895, at the Austin and Stone's Museum, Boston) and the 150th anniversary of the founding of St-Jean-de-Matha, the home of Louis Cyr," Ohl explained.

Paul Ohl is the author of what he describes as the first "official biography of Louis Cyr," a 636-page book entitled LOUIS CYR, UNE -POP-E L-GENDAIRE.

Details on this book are also available on the website.