New Hampshire Highland Games
Courtesy of Dr. William Crawford, of full sterkur fame, we have a report on this weekend's New Hampshire Highland Games, which had a mixed Highland Games and strongman format.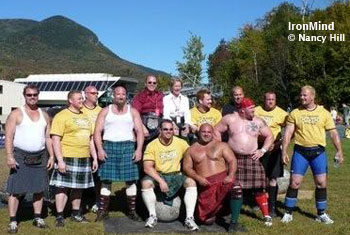 Highlander Games athletes/judges/sponsors. Left to right. Magnus Ver Magnusson, Benedikt Magnusson, Sam McMahon, Jim Glassman, Mike Zolkiewicz, Dan Ford, Dave Barron, Wout Zijlstra, Gerard Benderoth, Derek Hurley, Gregor Edmunds, with sponsors Ray and Cinda D'Amante sitting on the boxes. IronMind® | Photo by Nancy Hill, courtesy of Dr. William Crawford.

"This is a brief report from the New Hampshire Highland Games that featured the Highlander Games, a hybrid of Strongman and Scottish Heavy Events. The events on the first day were the 100-lb. stone toss, 56-lb. weight over bar, The Loon stones carry (a farmer's walk with Dinnie stone-type implements) and the caber toss. Sam McMahon won the Loon Mountain stone carry with a record walk of 101 feet. These stones weigh 507 lb. combined but are deceptively difficult because of the small thick rings. The second day's competition included the log press, the Husafell stone carry, caber toss for distance and the day ended with McGlashan stone loading. Wout Zijlstra won the Highlander Games with relentless pressure from a very strong field after completing all five of the McGlashan stones in strong fashion.

The final standings in the Highlander Games were:

1) Wout Zijlstra
2) Gregor Edmunds
3) Dave Barron
4) Dan Ford
5) Gerard Benderoth and Mike Zolkiewicz (tie)
7) Sam McMahon
8) Benedikt Magnusson
9) Jim Glassman
10) Derek Hurley

Magnus Ver Magnusson was the guest judge and did a great job of tweaking the events to keep them more interesting and challenging. Art McDermott again did a stellar job as announcer and bringing top notch, world-class implements.

The New England Masters Heavy Events Championships had Don Stewart and Petur Gudmundsson battling in a close battle with Don finally pulling out the win on Saturday. Petur set the age group world record in the open stone toss with a throw of 52' 5" and Don set a world record with the heavy weight for distance with a throw of 52' 1". Don made attempts for a world record in the weight over bar and Petur was very close in his bid to set a world record in the sheaf toss. Unbelievable competition.

The New England Amateur Heavy Events Championships saw a great battle between Sam Grammar and Robert Troupe with Sam pulling out a great win on Sunday."