Nestville Strongman World Cup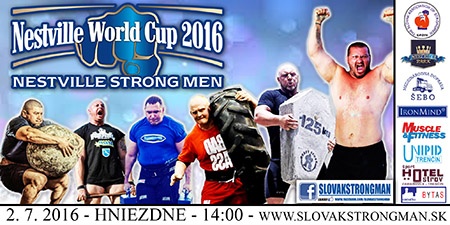 "This Saturday in Hniezdne, Slovakia will host the Nestville Strongman World Cup," Pavol Guga, General Manager of Slovak Strongman reported to IronMind.



"It is organized by Sasim Slovak Association of Strongman and most powerful strongmen come!, said Guga.

Here is the official start list:


• Khamza Primov (Uzbekistan)
• Marcos Ferarri (Brazil),
• Marc Van der Haer (South Africa)

• Ákos Nagy (Hungary)
• Rafal Kobylarz  Poland)

• Ivan Hryhorovskyy (Ukraine)

• Volodymyr Tsifra (Belarus)
• Igor Petrík (Slovakia) 

• Peter Rekenei (Slovakia)



Five disciplines will be contested and for more information, please visit www.facebook.com/slovakstrongman.
                                          ###


You can also follow IronMind on Twitter and on Facebook.                        



Want to talk grip, strongman, weightlifting . . . everything strength? Visit the IronMind Forum.