NYC Big Apple Grapple: King & Queen of Arms
The New York Arm Wrestling Association (NYAWA) is calling "both hard-nosed pros and first-time beginners," men and women, to step up to the table and see what kind of arm wrestlers they are: the best of them will leave as the New York City King and Queen of Arms.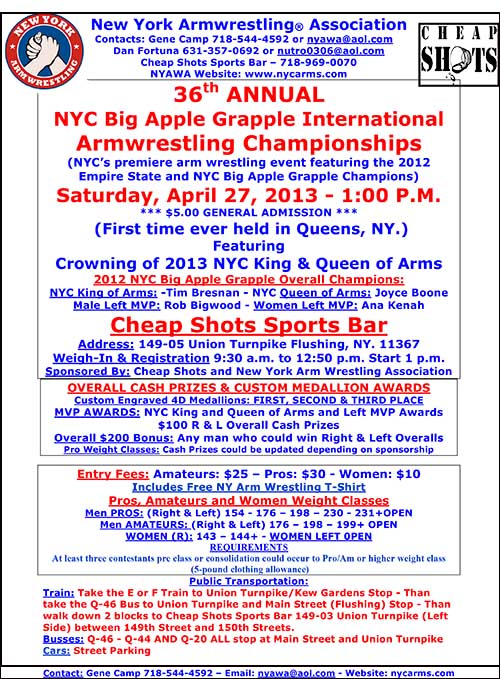 Got a strong arm? Put it to good use at the 36th Annual Big Apple Grapple on April 27 at Cheap Shots Sports Bar in Flushing, New York. IronMind® | Image courtesy of NYAWA.


NYAWA founder and president Gene Camp expects "100 athletes will participate in this event, including competition from far away as Turkey, Brazil, Russia and Hungary. Among those expected to take part are the defending 2012 Empire State and NYC Big Apple Grapple International Champions."

The contest is set for April 27, 2903 at Cheap Shots Sports Bar (Flushing, NY), with the action starting at 1:00 p.m.

For full details, please visit the official NYAWA website.

### 



The IronMind Forum: discuss this article, talk strength, get help with your training.

You can also follow IronMind on Twitter.