NAS/ASC/IFSA-USA Central USA Strongman Challenge
Chad Coy told IronMind®, "From the inception, the Central USA has given some of the best American strongmen their start in the sport," and he expects tomorrow's contest to follow in this tradition.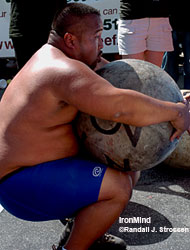 Lots of heart makes up for less height: Grant Higa, always a crowd favorite, will be competing in the Central USA Strongman Challenge tomorrow in Kokomo, Indiana. IronMind® | Randall J. Strossen, Ph.D. photo.
"Each year we do the event for a cause," Coy said, "and this year's cause is the children of Heartland Ministries' Kids' Program. We have raised $2,500 for the kids and still have t-shirts left." For details, please contact the Powerhouse Gym in Kokomo, Indiana.