Andrus Murumets took home top honors at IFSA's Latvian Grand Prix over the weekend, adding to the stature he had gained with his strong performance at the recent Arnold strongman contest.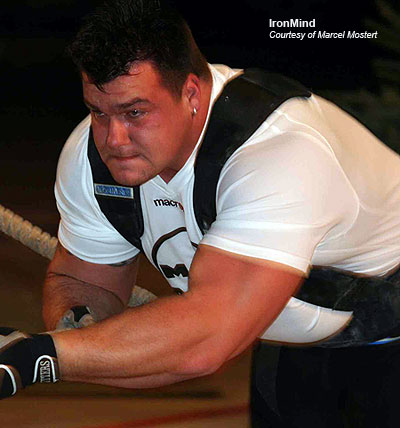 Jarno Hams digs in on the Truck Pull at the IFSA Latvian Grand Prix. IronMind® | Photo courtesy of Marcel Mostert.

"We had a completely packed stadium - around 8,000 spectators," IFSA's Marcel Mostert told IronMind®. Unfortunately, hometown hero Raimunds Bergmanis "fell out after the first event, the truck pull. He suffered from the flu he had this week . . . Just not the right week!" Mostert said, explaining that a brutal flu strain had been sweeping through Europe. Other flu victims were Tomi Lotta, who could not make the trip, and Zydrunas Savickas, who came to the contest, but did not compete as he had been sick since returning from Columbus, Ohio.

Nonetheless, performances were at "quite an impressive standard," Mostert said: the Super Yoke, at 425 kg, was very heavy, and top lifts on the log were also noteworthy. "We used a 135-kg log and three guys did eight reps [Murumets, Bleikaitis and Pedan] and that was with strict judging by Jamie [Reeves], as usual," said Mostert.

Here are the top five:

1. Andrus Murumets 65 point
2. Vasyl Virastuk 55.5
3. Vidas Blekaitis 55
4. Igor Pedan 52
5. Agris Kazelniks 44.5

Summarizing the weekend, Mostert said, "We had a good contest. Everybody was happy!"

Please check the official IFSA website for complete results.