Mt. Rainier's Strongest Man and Woman III
Kurtis Bowler and Rainer CrossFit are hosting the third annual Mt. Rainier's Strongest Man and Woman contest, and once again, it will be drug-tested.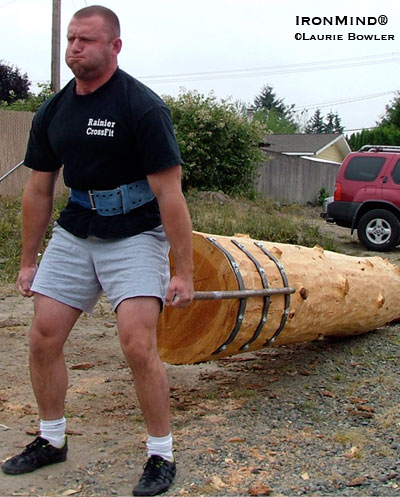 "The Deadlift apparatus is a log," Kurtis Bowler told IronMind®. "I have two of them that are 11 feet long. The big one is about 27" in diameter at the big end and weighs 1470 pounds, and the small one is about 24" at the big end and weighs 1140 pounds. They will have parallel handles attached to the big end. The implement will look like a cross between a car deadlift and the log Viking press they used to do on WSM. So to lift it, you will stand with your back to the big end of the log," as Kurtis Bowler demonstrates in this photo by Laurie Bowler. | IronMind®

Mt. Rainier's Strongest Man and Woman is set for "August 2, at The Old Cannery Furniture Warehouse in Sumner, Washington," and it will include two women's weight classes and three men's weight classes. "The top finisher in each weight class will be tested for performance-enhancing drugs," Bowler told IronMind, as he continues his partnership with his local "U.S. Healthworks to provide our drug screening. They have donated their time and the tests for the last two years and are donating their time again this year, but we will pay for the tests. They are fairly expensive tests, but worth the money," Bowler said.
The events are the yoke race, log deadlift (reps), bus pull (double-decker bus), overhead press medley, and stones. For full details, please check the Rainier CrossFit website or call 1-253-686-9994.