Morgan Aste Wins French National Strongman Championships . . . 2 More World Records for Zydrunas Savickas
Paris – The Strongman Champions League/Eric Favre Strongman Record competition finished with a grand finale at the Salon Body Fitness Expo today, as Morgan Aste won the French strongman championships and Zydrunas Savickas bagged two new strongman world records.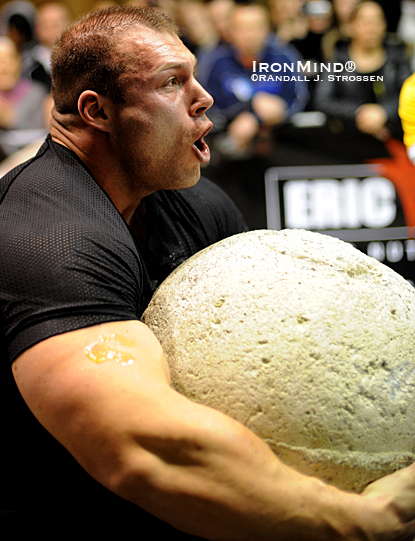 Morgan Aste brings a very impressive physical package to strongman, and with some more experience he should be able to advance in the sport. Incidentally, right after winning the title, with no warmup or fuss, Aste clicked a No. 2 Captains of Crush® Gripper shut. IronMind® | Randall J. Strossen photo.


The battle for the French National Strongman Championships could hardly have been closer—both Didier Rolland, a cornerstone of French strongman, and Morgan Aste, a bodybuilder turned strongman, ended the three-day competition with 61 points. The title was originally awarded to Rolland, on the basis that both he and Aste had won three events, but that Rolland had more second-place finishes. Subsequently, SCL cofounder Marcel Mostert discovered that, in fact, Aste had four first-place finishes, so while the title of France's Strongest Man would still be determined on countback, the honor would ultimately go to Aste instead of Rolland. Christophe Demel was third.

Continuing where he left off yesterday, the man who has won every major strongman contest on the planet—Zydrunas Savickas—set two new strongman world records today.

Saying "20 kg is too light," Zydrunas Savickas attacked the world record in the Front Hold with 30 kg and posted a time of 59.10 seconds.
For his third world record attempt of this contest, Zydrunas Savickas took a pair of 180-kg Farmer's Walk implements 18.00 meters for yet another new strongman world record—set even though the Lithuanian national treasure had to keep his footspeed under control, due to the hamstring he had injured at the Arnold: "Normally, I run with that weight . . . Today, I walked," Zydrunas Savickas told IronMind®.

Mariusz Pudzianowski was at the expo, representing his sponsor Olimp Sports Nutrition, and he told IronMind® that he will not be competing in this year's World's Strongest Man contest as he enjoys MMA and has a series of fights lined up in the both the U.S. and Poland.

Title sponsor Eric Favre was on hand throughout the strongman contest and personally handed out the awards to the competitors. Marcel Mostert, looking to an expanded role for French strongman in the future, told IronMind® that Morgan Aste, by virtue of his victory today, would be invited to a future Strongman Champions League contest, which will give Aste the opportunity to increase his experience in his new sport.

Once again, the entire contest was followed closely by a large, enthusiastic crowd, with announcer Fabrice Barbier ably calling the action.