Mohegan Sun Grand Prix Lineup
World's Strongest Man Super Series commentator Colin Bryce calls it, "the greatest one-day strongman show in the world," which is quite a billing, but but when the curtain rises at the Mohegan Sun on April 22, the winners of ten World's Strongest Man titles will be in the room.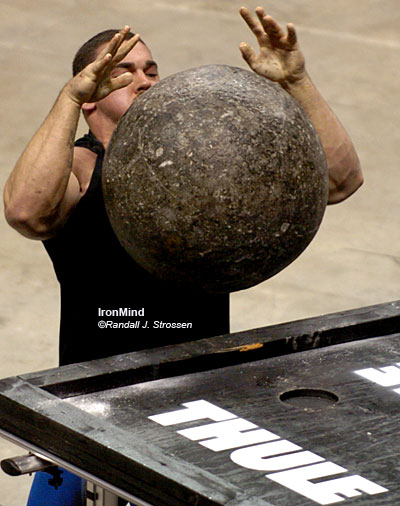 Local kid makes good: Kevin Nee works some magic with the stones at the 2006 Mohegan Sun Grand Prix. Kevin will back as part of another all-star lineup this year. IronMind® | Randall J. Strossen, Ph.D. photo.

Here's the official lineup, which was just released to IronMind:

Mariusz Pudzianowski
Janne Virtanen
Oli Thompson
Terry Hollands
Mark Felix
Vlad Ahlizov
Jessen Paulin
Louis-Philippe Jean
Don Pope
Kevin Nee
Karl Gillingham
Josh Thigpen
Jason Bergman
Sam McMahon

If that's not enough big names, Svend Karlsen will be working as the World's Strongest Man Super Series Expert Commentator and the great Bill Kazmaier will be the emcee.

For full details on the Mohegan Sun Casino & Resort, including ticket information, please check the Mohegan Sun website.