Mohegan Sun - "I left Vegas and I came to Vegas," Mark Philippi said, describing the Mohegan Sun Casino, which is home to the WSMSS Mohegan Sun Grand Prix tonight.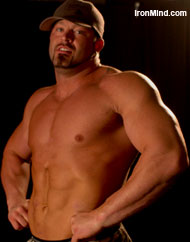 "I want to be the first strongman on the cover of a bodybuilding magazine," said Jesse Marunde, currently weighing 294 pounds. Marunde, the first teenager to officially close a No. 3 Captains of Crush® Gripper, was second in the 2005 World's Strongest Man contest. IronMind® | Randall J. Strossen, Ph.D. photo.

This grand, enormous complex includes an arena which will be the stage for many of the world's top professional strongman as they compete not only for prizes and places tonight, but also for invitations to the 2006 MET-Rx World's Strongest Man contest.

The competitors are looking relaxed and a practice session will be held later this afternoon, priming everyone for the action tonight in what promises to be a contest in which the competitors not only want to turn in top performances, but also have to guard against injuries as they continue their march toward peak condition for the 2006 World's Strongest Man contest.