Mixed Reactions to Fortissimus Events
Hjalti Arnason was quick to praise Fortissimus for its slate of events, but others were more measured.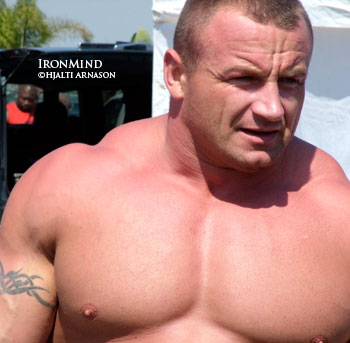 Four-time World's Strongest man winner Mariusz Pudzianowski is the prohibitive favorite going in, according to IronMind®'s informal poll of leading strongman experts, but Derek Poundstone has also been mentioned as someone who could excel at Fortissimus, and Hjalti Arnason told IronMind® that the heavier, stronger guys can be surprising sometimes because their relative strength advantage makes each rep/event easier. Still, the consensus is that an in-shape Mariusz Pudzianowski will be unstoppable at Fortissimus. IronMind® | Hjalti Arnason photo.

IronMind® directly asked a number of leaders in the field what they thought, and to provide a well-rounded perspective, our poll included competitors, promoters and TV producers - emphasizing again that we went to the absolute top stratum in the sport.

Hjalti Arnason, Defi Mark Ten winner and co-producer/director of the Jon Pall Sigmarrson documentary, told IronMind®, "It will be a major achievement just to finish," commenting on the huge volume presented to the competitors. "This almost doubles even Douglas Edmunds' attempts to make a contest really heavy," Arnason said, referring to the total tonnage involved. "The winner of this competition is made of iron . . . not just the strongest, but the toughest because he survived the pain."

Arnason praised Fortissimus for breaking the mold of traditional strongman contests and championed its focus on a huge overall workload, as opposed to simply focusing on lifting huge weights. "Strongman competition is a bit different from weightlifting or powerlifting," Arnason said. "It's more like hard work," rather than just heavy singles. "This is the best of the Defi Mark Ten, the Arnold, and World's Strongest Man all mixed together," he said. "Maybe this is exactly what the sport needs."

The very same volume was cause for concern in other quarters, though, as one the world's most experienced and knowledgeable top strongman promoters said, "The events are not bad, but why so many reps? This is for lighter guys - for runners," citing what, by top standards, are modest weights in such things as the yoke, log lift, power stairs and farmer's walk. "These are not weights," he said. "Come on."

The absence of a truck pull, which along with Atlas stones, is seen as a cornerstone strongman event, was also cited as a big gap in the Fortissimus program (even though Paul Ohl had previously said that a truck pull would not be included).

Addressing the volume, another top source told IronMind®, "It reads like someone's training program for a week, but the weights remind me of the '80s or '90s. It's dated. It's one man's fantasy." Still, this same person said that he tipped his hat to the organizers for taking things beyond the comfort zone, for trying something different.

Another member of IronMind®'s expert panel expressed disappointment overall in the events, explaining, "The contest has been hyped so heavily: "The events are coming soon . . . ,'" he said with a dramatic flair. "This is a little too much."

When you consider the multiple rounds within three of the events, there are actually eight events on the first day, and IronMind did talk to someone who has firsthand experience. Four-time World's Strongest Man winner Magnus Ver Magnusson told IronMind that he did eight events in one day in Finland once - he landed in a hospital and was not released until he'd had three liters of fluid replaced! Still, even with that history and even though he would prefer to see a heavier format, Magnus Ver said, "It would have been good for me when I was competing."

For the variety of comments on the events, there was little disagreement on the the contest's suitability for TV, with one person calling it "A TV nightmare," and another saying, "quite complicated for the audience to understand it" and another saying, "I would not want to turn this into a TV show."

Even clearer were the feelings about who was expected to excel at this contest: "I'd hate to be the other competitors if Mariusz shows up in shape," "Mariusz will wipe the floor with the rest of the field," "Savickas will be laid bare," "They have no chance against Mariusz - he will leave them in his dust."

For all the apparent surprise at the final dance card, it should be remembered that - even if the precise scope of the events has been surprising, Paul Ohl set the stage for a contest along these lines as he explained why he felt maximum lifts were not the true realm of strongman, and there never was any doubt of his primary allegiance to the great Louis Cyr and unwillingness to shape the contest according to the dictates of "good television."

And where does IronMind® end up on this? "High volume, low intensity and theme-specific," we would say, covering the first two points by saying that this is a test of stamina maybe even more than strength, and while we would prefer to see heavier events, the points raised by Paul Ohl and Hjalti Arnason certainly have merit. In terms of the theme, we heartily applaud honoring the great Louis Cyr, especially befitting a contest in Quebec, by Quebec and for Quebec, but if we had our choice, IronMind® would opt for the backlift and a heavy overhead dumbbell event as the preferred way to achieve this tie-in, and from there, IronMind® would include such classics as the Atlas stones and a truck pull, and, most likely, a Husafell-type event as well.

For IronMind®, though, the bottom line on this contest is that even if we might have nudged the events in this way or that, there will never be unanimity on this, and if for nothing else, the Fortissimus organizing committee should be recognized for having the vision and wherewithal to pull together this contest - not to mention endurance not unlike that needed to compete in the contest itself.