Mikkel Leicht Wins Denmark's Strongest Man
Denmark's Strongest Man was a powerful production and Aryn Lockhart, who was ringside, called the action for IronMind.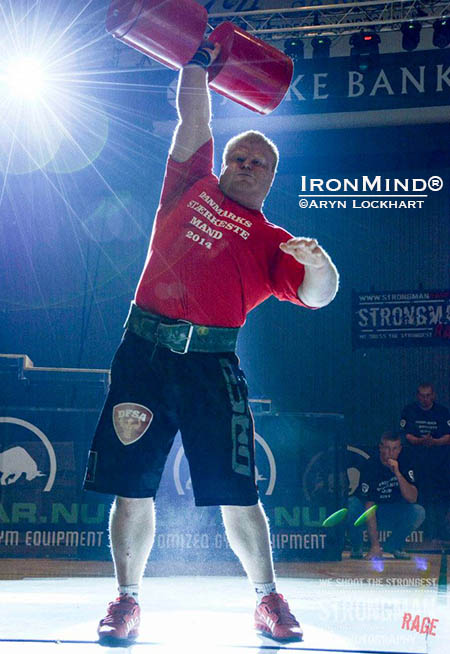 Mikkel Leicht completes eight reps with the 80-kg giant dumbbell to become the 2014 Denmark's Strongest Man. IronMind® | Photo courtesy of Aryn Lockhart




Lights, Camera, Action—Mikkel Leicht wins Denmark's Strongest Man
By Aryn Lockhart, Strongman Rage

In Svendborg, Denmark the sports hall rocked and rumbled as the sold out crowd cheered on the Strongest Man of Denmark. This competition was complete with light show, DJ, smoke and the strongest men of Denmark battling it out in an extremely heavy competition. Head to head battles and a screaming crowd set the tone for this exciting competition. When the smoke cleared and dust settled it was Mikkel Leicht who took the crown as the Strongest Man of Denmark. Earlier in the year, Leicht competed in the Strongman Champions League Holland placing 11th.

There were six events for the final. The events were heavy by strongman standards. The first event was a head to head battle of loading with four IronMind sandbags packed to the rim each weighing 130-kg (286 lb.). Event two was another head to head battle of 130 kg (286 lb.) log for repetitions. The next event was the deadlift for max. Event four was an extremely heavy 150 kg (330 lb.) farmer's walk for 40 m. Event five was the giant dumbbell 80 kg (176 lb.) for reps. The final event was the final head to head battle of the atlas stones ranging from 110 kg – 180 kg (242–396 lb.).

This elaborate production was the first of its kind in Denmark. Nicolaj Holstein the organizer stated, "We made history in Denmark today." Holstein continued, "I'm really excited about today's event. The crowd and energy were undeniable! It made for a terrific competition."

Mikkel Leicht plans to compete more on the international level with another competition in November with Giants Live in Sweden.

The final results were the following:

1. Mikkel Leicht 68 points
2. Nicolai Hansen 66 points
3. Mads Erenskjold 58 points
4. Ralf Jakobsen 50 points ( first place Masters )
5. Patrick Christensen 38 points
6. Daniel Brix 37.5 points
7. Kasper Myren Riis 33.5 points ( first place -105 kg )
8. Lars Besand 32.5 points
9. Michael Rasmussen 31.5 points
10. Ole Torp 26 points
11. Christian Seifert Rasmussen ( first place -90 kg )
12. Runi Hansen 17 points

###



Visit the IronMind Forum: talk strength, discuss this story. Strongman, grip, Highland Games, Olympic lifting, stones and more.

You can also follow IronMind on Twitter and on Facebook.