Mikhail Koklyaev and Louis-Philippe Jean Join Field at Fortissimus
Early in his contest planning, Fortissimus's Paul Ohl set himself the challenge of recruiting the world's top strongmen to his contest, and despite political hurdles along the way, he has succeeded admirably - and now Mikhail Koklyaev (Russia) and Louis-Philippe Jean (Canada) have joined the field.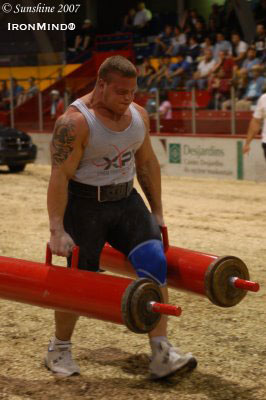 Rising strongman star, and a Quebecer at that, Louis-Philippe Jean has joined the field at Fortissimus. IronMind® | Photo courtesy of Paul Ohl (Sunshine).
Mikhail Koklyaev is a top performer in strength sports, excelling on a wide range of lifts and events, and Louis-Philippe Jean has won high praise from Hugo Girard, which is all IronMind® needs to know about him.

Both FORTISSIMUS 2008 Steering Committee chairman Paul Ohl and the management of Russia-Strongman, Ekaterina Mayorskaya, confirmed Koklyaev's participation.

"Misha has confirmed his participation and has received the official documents. Since FORTISSIMUS is the challenge for the strongest athletes, Misha deserves to compete. He is honoured now that everything is confirmed," said Mrs. Mayorskaya.

Paul Ohl explained the wild card position, which was given to Louis-Philippe Jean, "Quebec's newest strongman sensation. He is the 2007 winner of the Quebec Strongman Cup and seen by many as the future Canada's Strongest Man. At age 23, Louis-Philippe Jean will be the youngest Canadian strongman ever to compete at such a world-class level. We have elected to give a real opportunity to Canada's rising star. He was a unanimous choice."