Mike Zolkiewicz: 18' 10" World Record in the 56
Mike Zolkiewicz used this weekend's Rhode Island Highland Games as the platform to launch the 56-lb. weight for height to, well, new heights as he broke his own world record with a mighty throw of 18' 10" and both Bill "Doc Rock" Crawford and Dave "Mr. Natural" Barron made sure that IronMind heard the good news of Zolkie's latest heavenly throw.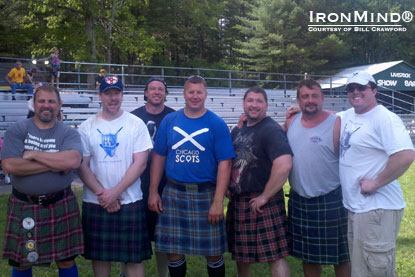 Left to right: Bill Crawford, Dave Barron, Mike Zolkiewicz (world record holder in 56-lb. weight for height), Mike Pockoski, Ron Hamelin, Kerney Smith, Sam Grammer (Rhode Island Highland Games Athletic Director).


"Great day of throwing and an all-time world record in the WOB [weight over the bar]!" Bill "Doc Rock" Crawford said.

###

The IronMind Forum: discuss this article, talk strength, get help with your training.

You can also follow IronMind on Twitter.