Mike Pockoski and Ryan Vierra Win IHGF World Team Championships
It was what Francis Brebner might well have called a ding-dong battle as the lead changed hands many after nearly every event throughout the weekend, but when the dust settled Sunday afternoon, USA 2 won the IHGF World Team Championships.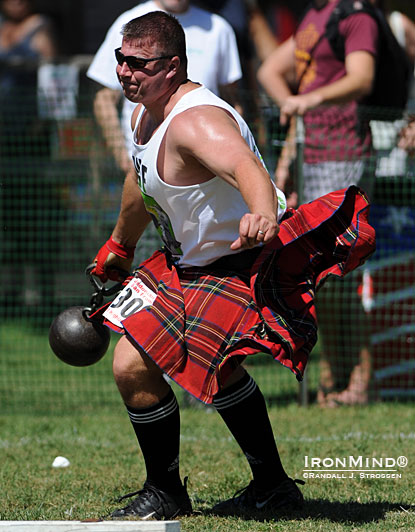 Mike Pockoski builds speed on the 56-lb. weight for distance. Pockoski finished 4th overall in the individual rankings and his teammate, 5-time world champion Ryan Vierra, was right behind him. In this case, 4 + 5 = 1 as the teammates won the 2011 IHGF World Team Championships. IronMind® | Randall J. Strossen photo.


The second day of the IHGF Highland Games World Team Championships kicked off with the open stone, which was handily won by Sebastian Wenta with a throw of 54' 1/2". Daniel McKim was second, at 50' 2", and Sean Betz got third with 50' even. At this point, Team Europe and Team USA 3 (Sean Betz and Mike Zolkiewicz) were tied for the lead.

The 22-lb. hammer was next and Daniel McKim once again showed that while this might not be an individual championships, he was the guy to chase: McKim won with a throw of 115' 2-1/2"; Mike Pockoski was second (111' 9") and Craig Sinclair was third (108' 9"). This changed the lead again and now it was USA 2 (Mike Pockoski and Ryan Vierra) who headed the pack.

The final event for the 2011 IHGF World Team Championships title was the 28-lb. weight for distance, and Sean Betz set the standard with his winning throw of 84' 4-1/2". Daniel McKim was 4" back in second place and Sebastian Wenta got third with 82' 2-1/2".

Team USA 2 (Pockoski, Vierra) edged USA 3 (Betz, Zolkiewicz) by one point in the final standings:
| | | |
| --- | --- | --- |
| 1. | USA 2: Mike Pockoski, Ryan Vierra | 79.5 |
| 2. | USA 3: Sean Betz, Mike Zolkiewicz | 80.5 |
| 3. | USA 1: Daniel McKim, Chad Gustin | 85.5 |
| | Europe: Sebastian Wenta, Hans Lolkkema | 85.5 |
| 4. | Scotland: Sinclair Patience, Craig Sinclair | 130.0 |
| 5. | Canada: Danny Frame, Jason Johnston | 163.0 |

After a lunch break, the IHGF 56-lb. Weight For Height World Championships and the World Caber Championships were held.

Spinning was not allowed in the weight for height but Mike Zolkiewicz proved that's no reason for little numbers: the world record holder blasted a 17' throw and then sat back as watched as Dan McKim made three valiant but unsuccessful attempts to match him. With the title won, Mike decided to chase Matt Sandford's field record, so he called for 18' 2" but it wasn't to be.

The IronMind caber once again got some airtime as it was whistled into action on the World Caber Championships, and once again it proved a hard stick to turn . . . unless your name was Sebastian Wenta, that is. Dan McKim and Mike Zolkiewicz also succeeded, and they finished second and third, respectively.


###

The IronMind Forum: discuss this article, talk strength, get help with your training.

You can also follow IronMind on Twitter.