Mike Dickens Dominates Rio Grande Valley Highland Games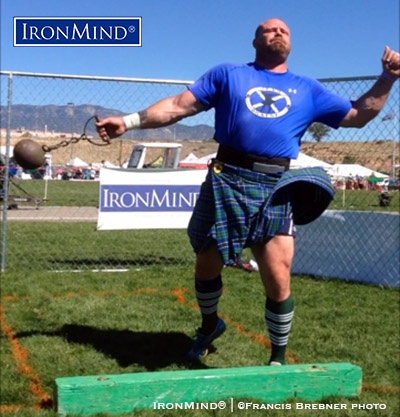 2017 Rio Grande Valley Celtic Festival and Highland Games
by Francis Brebner
President
International Highland Games Federation (IHGF)
 
The 2017 Rio Grande Valley Celtic Festival and Highland Games in Albuquerque, New Mexico attracted more than six thousand spectators over a weekend of perfect weather and Celtic festivities on the games' 20th anniversary. Seventy athletes competed in the A, B and C, masters, lightweight, novice, and youth categories, with a total of 31 field records and 15 world records established.
 
It was practically a clean sweep in the A group for Michael Dickens of Texas, who established 6 field records, and in the woman's lightweight class, Teresa Nystrom of New Mexico, who set 15 world records.
 
Six athletes made the lineup in the A group, including Casey Head, Chad Thompson, Daniel Murphy, Brian Humphries, Thomas Pennington and Mike Dickens.
 
In the 22-lb. Braemar stone, Dickens blasted out a putt of 36' 7" to notch up his first win and establish a new field record, with second going to Humphries at 33' 2" and third to Thompson 32' 8-1/2".

Dickens soared in the 16-lb. open stone with a comfortable win of 48', followed by Thompson at 42', and Humphries at 39' 10-1/2".
 
The 56-lb. weight for distance was Dickens's second field record, set with a class distance of 40' 2". Thompson took second at 31' 10" and Murphy third at 28".

The 28-lb. weight for distance began with Thompson taking the early lead with a throw of 71' 2-1/2" in the first round, but he was overtaken by Dickens's throw of 77' 3" for the win and his third field record. Murphy was third at 62' 11-1/2".

Thompson and Dickens went all out in the first rounds of the 22-lb. hammer, with Dickens pulling out a crushing throw of 96' 1" in his final attempt for the win and another field record. Thompson was second with 86' 4" and Murphy third at 77' 2".

In the 16-lb. hammer, Dickens made the field record books again with 116' 4", followed by Thompson at 98' 11" and Head 89' 10".
 
The 56-lb. weight over bar was a slug fest between Dickens and Thompson, tying at 14'. Head was third at 13'.
 
The caber toss, at 18' long and 116 lb., was won by Dickens slamming a toss of 11:55. Second on countback was Head with a 75-degree attempt and third Thompson also with 75 degrees.

The final event, the 20-lb. sheaf toss, was Dickens's final victory with a height of 30' and again a field record. Head was second at 24' and Murphy third at 20'.
 
Overall points
1. Mike Dickens            6.5
2. Chad Thompson      23.5
3. Casey Head            31
4. Daniel Murphy        34
5. Brian Humphries     38
6. Thomas Pennington 53
 
Monica Battle did an outstanding job in her first year as the festival director, along with Grant Oliver as vice chairperson and Chad Thompson as the athletic director.
                                                        ###



You can also follow IronMind on Twitter, Instagram and on Facebook.                        



Want to talk grip, strongman, weightlifting . . . everything strength? Visit the IronMind Forum.