Michael Blumstein Wins German Pro League Finals
Bad weather didn't put a damper on the German Pro League finals that crowned Michael Blumstein as "the strongest man in Germany."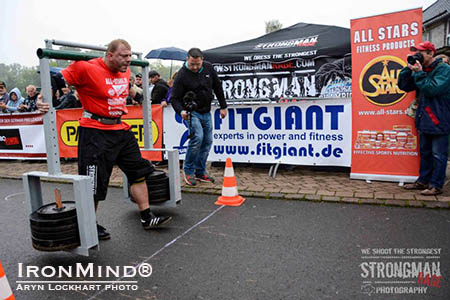 Michael Blumstein carries the 350-kg (770-lb.) yoke over the finish line to complete the final event in the Germany Pro League Finale to become the Strongest Man of Germany. IronMind® | Photo courtesy of Aryn Lockhart 




Michael Blumstein is the Strongest Man of Germany
By Aryn Lockhart

This past weekend, Michael Blumstein became the strongest man of Germany. Fifteen athletes battled in the German Pro League finals in Kitzscher, Germany. The German Federation of Strength Athletes (GFSA), run by strongman legend Heinz Ollesch, has hosted 23 events between two leagues, the Pro League and the Germany Cup. The GFSA uses a scoring system similar to the Strongman Champions League (SCL), where athletes receive points in relation to their placing in each competition. The finals are worth double points. After four Pro League competitions throughout Germany, Michael Blumstein emerged the winner.

In dreary, drizzling weather, the fifteen strongmen contended in five events: 7.5-ton hand-over-hand; max overhead log; loading a 100-kg (220-lb.) keg and three 113-kg (249-lb.) blocks; keg toss with six kegs of varying weights thrown 4.5 m (14.8 ft.) high; and finally the super medley with a 100-kg (220-lb.) keg overhead press for three reps, a 135-kg (298-lb.) farmer's walk, and a 350-kg (772-lb.) yoke. Blumstein has already competed in two SCL events this year, SCL FIBO Germany and SCL Holland, and is looking forward to more international competitions.



###



Want to talk strength? Join the IronMind Forum.

You can also follow IronMind on Twitter and on Facebook.