Matthias Steiner and Even More at the Arnold
You know what he did in Beijing, and now here's your chance to see Matthias Steiner in person at the Arnold Sports Festival. But wait, who's that with him?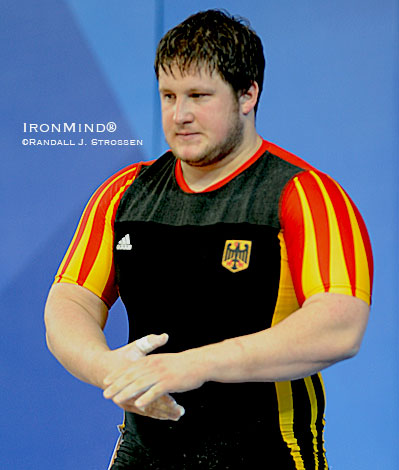 Fulfilling his destiny, Matthias Steiner stares at 185 kg - his opener in the snatch - at the "Good Luck Beijing!" Olympic test event in January 2008. This would be Steiner's first attempt in international competition in three years, as he had just gained his German citizenship and now was eligible to compete. Three months later, Steiner would open with 190 kg at the European Weightlifting Championships, and then in August, he would open with 198 kg . . . Matthias Steiner was on a dramatic journey that culminated with him winning the Olympic gold medal in Beijing. See Steiner and his German Olympic teammates lifting at the IronMind® Invitational at the 2009 Arnold Sports Festival. IronMind® | Randall J. Strossen photo.

He did more than win the super heavyweight gold medal on the last attempt at the 2008 Olympics - Matthias Steiner gave everyone a reason to dream big. His victory sounds like a movie script: a young Austrian guy is having a tough time getting support for his athletic dreams; he meets a German woman, falls in love, moves to Germany and marries her, but he isn't allowed to compete internationally while he waits to become a German citizen.

Finally, in January 2008, Matthias Steiner returns to international competition after a three-year absence . . . eight months later, with one lift left in the competition, he has a final shot at overtaking the Russian who had forged a big lead. Matthias Steiner makes the lift, wins the gold medal, and says he did it for his wife, who had tragically died in car accident the year before.

It has Hollywood written all over it, but that's the true story of Matthias Steiner, and he will be starring in the IronMind® Invitational on the main stage in the Expo Hall at the 2009 Arnold Sports Festival. Matthias Steiner and his Olympic teammates Almir Velagic and Juergen Spiess, top German weightlifting coach Frank Mantek, assistant coach Michael Vater, and team leader Dr. Christian Baumgartner . . . If that's not more than enough, IronMind® is extremely pleased to announce that Marc Huster will also be joining the party . . . Super Huster!

For full details on the Arnold Sports Festival, including ticket information, please go to the Arnold's website, and for more information on the IronMind® Invitational, featuring Olympic gold medalist Matthias Steiner, please contact Susan Altman, at IronMind®: IronMind® Invitational.