Matthias Steiner: Peaking for Peking . . . Olympic Medal Within Reach
It's a made-for-Hollywood story, but it's true: Matthias Steiner is ready to ring the bell big time in Beijing. This top young super heavyweight seems to be doing everything right, and by all accounts, he's peaking for Peking.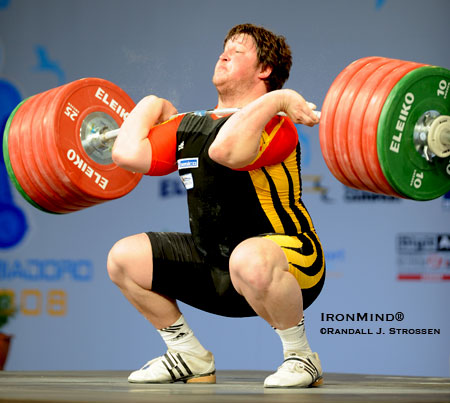 Matthias Steiner made this 246-kg clean and jerk at the European Weightlifting Championships. A couple of weeks ago, he made 250 at a competition in Heidelberg. This man's on a roll. IronMind® | Randall J. Strossen, Ph.D. photo.

Whether you're a hardcore weightlifting fan or can barely tell a power clean from an upright row, if you're into strength, mark August 19 on your calendar because that's when the supers will strut their stuff in weightlifting at the Olympic Games. No smoke and mirrors, no need for plastic props, special effects or pro-wrestling jive, this event is the proving ground for the strongest of the strong, and the man who's most captured IronMind®'s attention is Germany's Matthias Steiner. It's not just a great story that leaves you wanting to cheer for this guy or the results he's posted so far this year: more than any of that is the all-important momentum factor.

Matthias Steiner is on a roll: he did 193/230 in Beijing in January at the Olympic test event, and then he uncorked 200/246 in Lignano Sabbiadoro in April, at the European Weightlifting Championships. And if that wasn't enough to get him on your radar screen, there was his performance earlier this month, when he made 201/250 at a "the last official test competition," in Heidelberg, explained chief German weightlifting coach Frank Mantek.

Speaking from their training camp in Germany's Black Forest, Frank Mantek told IronMind®: "Matthias is in excellent form," and regarding those lifts from his most recent competition, Mantek said that Matthias Steiner made them "quite easily."

Frank Mantek likes Matthias Steiner's chances at the Olympics, putting him in with "the favorites in his weight class in Peking." Mantek, a 1980 Olympic bronze medalist in weightlifting, sees the possibility of Matthias Steiner joining the legacy of German +105-kg weightlifters winning medals at recent Olympics, where Mantek has been the coach: "With him I would have, after Manfred Nerlinger and Ronny Weller, the third super heavy since 1992 who fights for an Olympic medal."

"And wins," is what we would add.