Matthias Steiner Back in Training
Frank Mantek, the Sports Director of the German Weightlifting Federation as well as the German Men's National Weightlifting Coach, told IronMind today, "Matthias has begun with barbell training and his knee is better. I hope it stays so and he gets strong.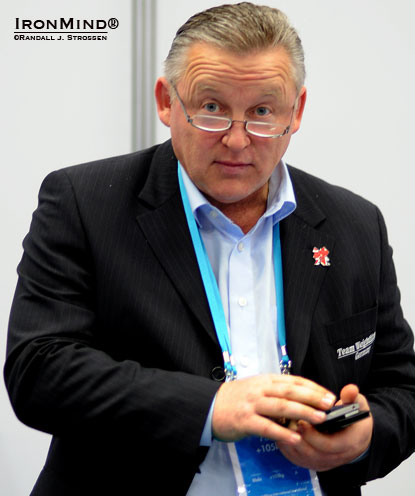 Checking messages: Frank Mantek—the coach behind such weightlifting stars as Ronny Weller, Marc Huster and Matthias Steiner—awaits the beginning of the men's superheavyweight class at the recent London Prepares: Olympic Weightlifting Test Event. IronMind® | Randall J. Strossen photo.


"The first competition is on June 9 in Heidelberg. On this day he must qualify for the Olympic Games," said Mantek.

Matthias Steiner moved from Austria to Germany to better develop as an athlete, and in a story that made Steiner an instant media darling, he won the +105 kg weightlifting gold medal at the 2008 Olympics—a success that proved once again that when it come to producing champion weightlifters, Frank Mantek has the Midas touch.

###



The IronMind Forum: discuss this article, talk strength, get help with your training.

You can also follow IronMind on Twitter.