Matjaz Belsak wins SCL Holland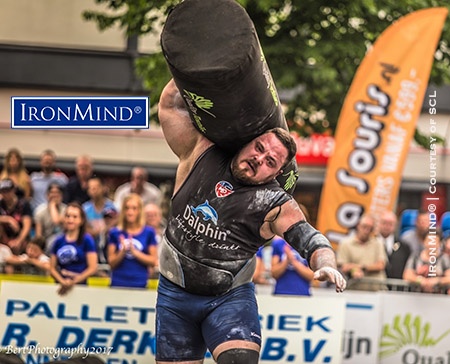 "After a few years of competing in the MLO Strongman Champions League, Matjaz Belsak seens to have his body in control now as he won his second SCL stage ever, the SCL Holland 2017," SCL director Marcel Mostert told IronMind.

This is is Belsaak's second SCL victory on the 2017 tour, as he won the SCL Fibo in Germany earlier this year.


"It is always a very tough competition in Holland and this year we created a new event, the Chain Pull, and Matjaz did a fantastic job to win it," said Mostert. Grzegorz Szymanski  was second and Alex Moonen was third.


"The contest was very exiting until the last moment, with Graham Hicks in the lead, but he dropped down to fifth place overall during the last event: Loading Medley. And moving the opposite direction, Alex Moonen went from fifth to third because of his strong performance in this event.


"Dennis Kohlruss from Germany got 4th place overall again, same as in previous stage, SCL Lithuania.


"Eric Dawson was a bit disappointing as title defender from last year, he became 7th this year, but the new Finn, Mika Torro, had a great debut in his first SCL ever as the 207 cm high 'El Toro' finished 9th place overall and he was very happy with that.


"Great event overall, exciting and a big crowd as usual—next year a new chance, with Matjaz as title defender.
 
Final standings
| | | | |
| --- | --- | --- | --- |
| 1. Matjaz Belsak   | Slovenia | 60.5 |   |
| 2. Grzegorz Szymanski | Poland | 57 |   |
| 3. Alex Moonen | Holland | 55 |   |
| 4. Dennis Kohlruss | Germany | 53   |   |
| 5. Graham Hicks   | England | 52.5 |   |
| 6. Aivars Smaukstelis | Latvia | 52 |   |
| 7. Eric Dawson | U.S.A. | 46 |   |
| 8. Enzo Tauro | Holland  | 40 |   |
| 9. Mika Torro | Finland  | 36 |   |
| 10. Sean O'Hagan | Ireland  | 35 |   |
| 11. Lauri Nami | Estonia  | 27 | Eliminated after 5 events  |
| 12. Jorgen Auckland | Norway  | 21 | Eliminated after 5 events |
| 13. Randolf Pander | Holland  | 10 | Eliminated after 3 events |
| 14. Marionchello Soleana | Curacao  | 9 | Eliminated after 3 events |
  
"The next and 5th stage of the MLO strongman Champions League will be at 22 July in Serbia.
See you there," said Mostert.
                                                        ###



You can also follow IronMind on Twitter, Instagram and on Facebook.                        



Want to talk grip, strongman, weightlifting . . . everything strength? Visit the IronMind Forum.